A
Reclaimed Ocean
Working Together to Make a Better World
A Collaborative Project by the MAC Class at Cardiff School
Each person has a part to play in keeping our oceans…and our world clean and healthy, just like each student in the MAC class contributed to the creation of our bottle cap ocean mural. The collection of reclaimed bottle caps, visualizing the design, sketching out the plan, sorting and coloring caps, laying out the caps, and gluing them into place was a collaborative effort. We hope this mosaic of plastic helps bring awareness to the problem of ocean trash and encourages us all to do our part, individually and collectively, to contribute to the solution…for the good of our community, our oceans, and our planet.
Steps we used to complete this project:
1.  Collected bottle caps (took several weeks)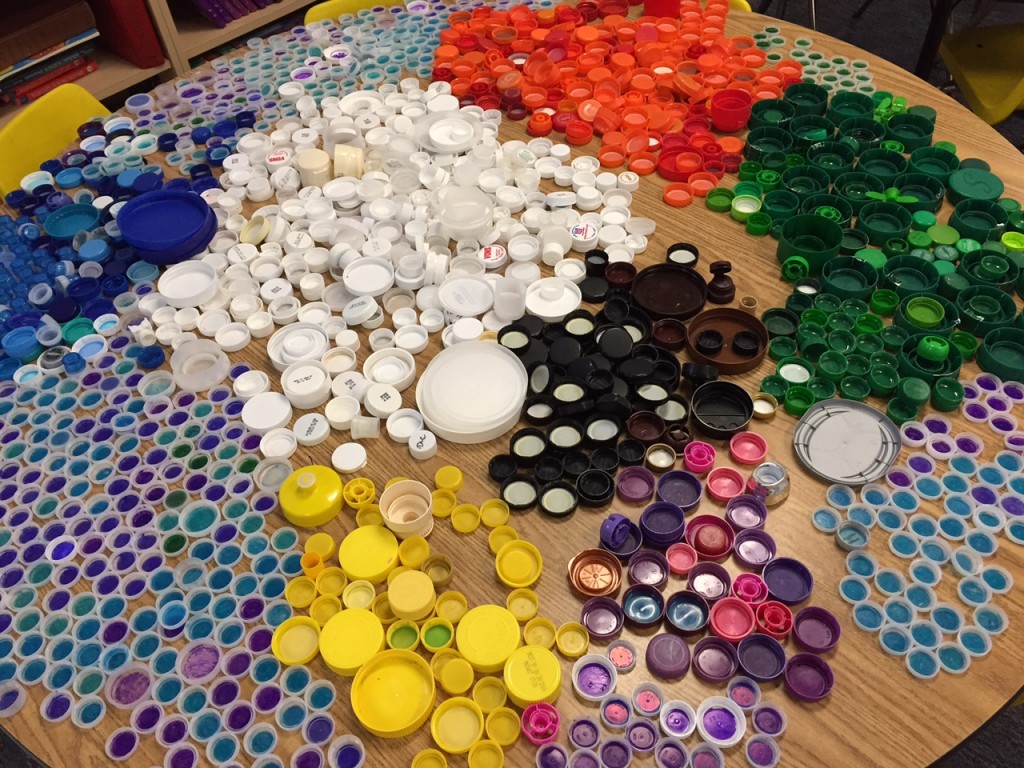 2.  Sorted caps according to color (some we added color to with Sharpie markers)
3.  Brainstormed ocean mural designs (each child in our class sketched their own ideas)
4.  Merged ideas from individual designs into one
5.  Sketched final design on chart paper
6.  Painted thin plywood board and let it dry
7.  Created outlines of ocean creatures (we used paper, but if we had more time, we would have painted them)
8.  Teams of students organized bottle cpas per creature/part of the ocean
9.  Glued bottle caps with tacky glue and let dry
10.  Stood back and admired!
Students also did some writing about all they had learned about plastics and their impact on our oceans and environment.  Once they had written, they selected a sentence to contribute to a collaborative piece of writing.  Once gathered, a small committee of third grade writers took on the task of rearranging and revising to create order and cohesion from the ideas in the sentences from our 44 students.  The result: an informative text about all they have learned!  We hope you learn a lot…and take action like our students have.
We have a problem! There is so much plastic in the ocean. About 100,000 marine mammals around the world get killed each year because of plastic. Don't you realize we're hurting these innocent creatures just by littering? When plastics go into the ocean they don't decompose and the toxins stay in the water.

Have you heard of the Great Pacific Garbage Patch? The Great Pacific Garbage Patch is like a humongous island with a bunch of floating plastic! There are about five garbage patches in our world's ocean. Those trash patches have stored up so much debris that they're the size of Texas! It's hurting our world.

Rain, floods, and wind can make this problem worse. SO that is why we need to start to take care of our environment: no more littering! Sometimes there's plastic that is floating in the ocean. Some birds think it's some yummy food. One way people litter is they have a picnic at the beach. Sometimes they bring little plastic bags and throw them on the ground and think, "One little bag is alright." But if thousands of people think this, it won't be just one little plastic bag.

Some ways we can help this big plastic problem are:

Don't bring plastic bags or bottles to the beach and take care of your plastic bags and trash so it doesn't blow into the ocean.
When you really want a toy at the store, think again! Does it have a plastic wrapping?
We should ban plastic bags because they are a threat to sea animals.
Don't bring soft plastic to a picnic because it is bad news for animals.
Use reusable containers because you probably won't throw those away.
Take plastic water bottles to the recycling center and get money for them.
Recycle your plastic bags.
If you're walking at the beach with a backpack on, make sure it's closed so no plastic flies out of it.
Always, when you see trash on the beach, pick it up because it could hurt animals!

To help the environment is very important. Even when you live far away from the ocean, it's not okay to litter. Sometimes when I see plastic in the ocean and that hurts animals and me too. Plastic is disturbing the food chain; it's likely that we may eat an animal that has eaten plastic.

Think of others ways to save our ocean. Think about it and take action now, we have a big problem!